Next Dates available for booking:
Module 1: May 25, 2022
Module 2: May 27, 2022
Module 3: June 1, 2022
Each session starts at 14:00 GMT/UTC (or 15:00 London/Dublin time)  and lasts for two hours.
To register, please purchase the course, and we will send you all the necessary links and information.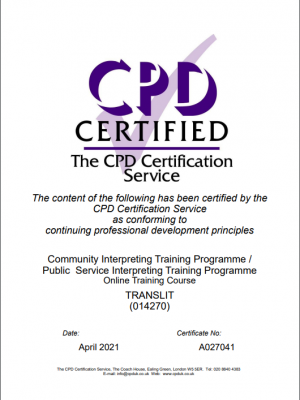 WHO SHOULD ATTEND THE PROGRAMME AND WHY
Who is this Programme for? You will find this programme useful and beneficial if you are:
a complete beginner or a volunteer interpreter wishing to develop your skills, or
a translator who would like to branch out into interpreting, or
an experienced interpreter seeking to refresh your knowledge and to expand your business.
Why do I need to take this course?  Interpreting requires a high-level of professionalism and knowledge of specific terminology. As a public service / community interpreter, you will be working with sensitive and confidential communications. This course will prepare you for these challenges and ensure that you are highly professional and discreet in your work.
What will you learn during this programme? During this 6-hours training programme on Public Service / Community Interpreting, you will learn about the fundamental rules, principles and skills required to carry out public service interpreting work to your best ability. You will also learn how to prepare for your interpreting assignments, what to expect from them, and how to develop your interpreting business. 
What is public service interpreting?  Public service interpreting (called "community interpreting" in some countries) is an umbrella term that covers interpreting in public service settings, such as healthcare (hospitals, doctors' appointments), law enforcement (police and court), immigration (refugee centres), housing, welfare, and so on.
STRUCTURE AND CONTENTS OF THE PROGRAMME
This programme is delivered through three live two-hour webinars each covering a specific module. 

Each module includes theory and practical examples and exercises. 

After each module, you will receive a set of notes and assignments for independent study estimated time required – one hour per module)
MODULE 1 – Public service interpreting and core interpreting skills
This module will give you a good understanding of what public service interpreting is, critically important ethical, cultural and professional considerations that you must be aware of, and core skills of public service  interpreting. 
Modes and styles of interpreting; interpreting vs translation

Interpreter's role and responsibilities

Ethical and professional principles of community interpreting

General interpreting skills and processes:

Memory techniques and note-taking

How to prepare for an interpreting assignment
MODULE 2 – Public service interpreting settings, specific challenges and terminology
In this module, you will learn about different situations you may face as a public service interpreter, the challenges of such situations and how to deal with them. We will also work with specific terminology and vocabulary. 
Interpreting in healthcare settings, including

Hospitals

Doctors' appointments

Interpreting in law-enforcement, including

At the scene

Police (garda) station

Prison

Court

Immigration / Social welfare / education settings, including

Social interview

Assignments that include children

Finding and learning specialised vocabulary 
MODULE 3 – Developing your public service interpreting skills and business
In this module, we will talk about other types of interpreting you will come across (remote and sight interpreting). We will also talk about dealing with tricky situations and minding your stress levels. We will complete the programme with an overview of business issues related to your interpreting activities. 
Remote interpreting: over-the-phone or video link

Sight interpreting

Dealing with sensitive and difficult cases

Developing your public service interpreting skills and career further
TEST, CERTIFICATION AND OUTCOMES
Test:  Participants who attended all three sessions will receive a link to a written test (which should take under an hour to complete). There is no additional fee for the test.
Certification: T
You will receive TRANSLIT's certificate for the full programme or any module that you attend.
To receive the CPD certificate in Public Service (Community) Interpreting Training Programme, you are required to: 
Attend all three modules, and
Pass the test at the end of the programme (75% pass rate) – you will have 7 – 10 days to prepare for the test and complete it. 
Independent study / tasks are offered after each module; it is recommended (but not mandatory) that you should complete these in preparation for your test.
Programme outcomes for you: upon completion of the programme, you will learn and understand:
the main principles of public service / community interpreting, relevant practices and the code of ethics 

how to prepare for an interpreting assignment and how to complete it successfully

core interpreting skills and using them in practice

challenges specific to various public service interpreting settings and will learn to address them

how to learn relevant terminology and develop your vocabulary